Why You Should Never Use Your Phone While Driving
Distracted driving occurs when something pulls the driver's attention away from what they are presumably supposed to be doing. Distraction can come from a conversation with a passenger, ogling some passerby, or fiddling with your cellphone. One of the most infamous sources of distraction for drivers is cell phones. The use of cell phones when behind the wheel is prevalent.  Despite the trend, driving while using a cell phone has risks.
To protect your interests and find a solution that will work in your favor, work with an experienced Tucson Car Accident Attorney with Karnas Law Firm, PLLC. 
Why cell phones are dangerous
Researchers in one study in 2008, to determine the statistics on car accidents caused by cell phones, found that cell phone users were more prone to rear-end collisions than subjects who had had a few drinks in a driving simulation. Of course, driving in a simulation is not the same as driving on a real road, and you could always put your cell phone down, whereas you cannot sober yourself on demand. 
However, there is growing evidence that things that fight for our attention while driving impact our ability to drive safely. Cell phone use significantly affects important factors of driving performance, for example, reaction time.  
Dialing can be a dangerous distraction, but even talking on the phone while driving still raises your risk of being in a crash because cell phone distraction involves both the physical distraction of:
Retrieving the phone

Dialing

Holding it to your ear

The cognitive distraction from paying attention to the phone conversation
What about drivers who use Bluetooth or hands-free devices?
Several simulator studies have reported using hands-free devices when driving is not less risky than using hand-held devices. The hands-free category often seems to drive faster in simulators and show slower reaction times. Researchers think that using cell phones hands-free makes drivers believe that they are less distracted than they are. However, it is a bit more complicated on a real road.  
Research on drivers in real cars suggests that the additional risk associated with talking on a cell phone, whether hand-held or hands-free, is relatively low. It is crucial to remember that hands-free is not risk-free. On the other hand, texting or anything that takes your eyes off the road for about two seconds or more has a dramatic impact on additional risk. One study on drivers on real roads found that texting while driving increased the risk of a severe incident by over 20 times and is more likely to cause an accident than talking on the telephone.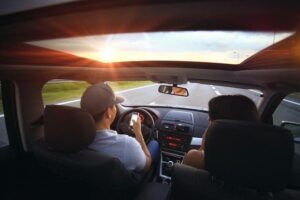 Answering the phone is a socially impulsive act, and most people feel acclimated to attend to their cell phones to avoid the monotony of driving. Drivers should always avoid cell phone use behind the wheel. The bottom line is that cell phones are bad for you if you let them get in the way of what you are supposed to be, doing-especially if that thing is already potentially dangerous. Please keep your eyes and attention on the road, not your phone, and stay safe.
Contact Karnas Law Firm
If you or someone you know was injured in a car accident after a driver failed to use safe driving practices, schedule a consultation with a personal injury lawyer at Karnas Law Firm, PLLC, to receive the compensation you deserve.
Call Today! (928) 723-0088