Nogales, AZ Truck Accident Lawyer
When You Hire One Attorney at Karnas Law, You're Hiring a Team
Home » Nogales, Arizona Truck Accident Lawyer
Karnas Law Firm: Truck Accident Lawyers
Helping Anyone Hurt in a Nogales Truck Accident
Commercial trucks are a common sight in Nogales. With I-19 leading into the city, we see big rigs racing along at high speeds before pulling downtown to offload goods for our neighbors to buy. Any collision with a big rig, even at low speeds, can result in major injuries. Your best bet is to call Karnas Law Firm, PLLC, immediately after a collision. Our legal team can provide targeted advice about how to receive compensation for your injuries.
Trucking Accidents & Injuries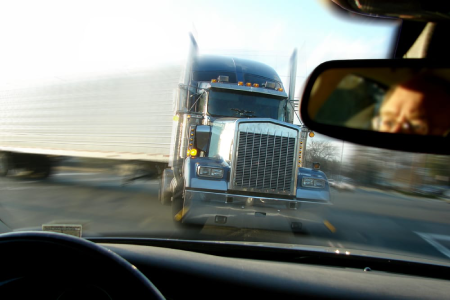 A collision with a large truck can result in difficult injuries. We have helped clients seek compensation for a variety of truck accidents:
Rollovers. A truck can roll on its side when weight is unevenly distributed. Motorists and pedestrians can suffer fractures, head injuries, crush injuries, and organ damage in these horrifying accidents.
Override accidents. A truck could slam into a car in front of it and ride up onto the vehicle, leading to back injuries, spinal column injuries, and crush injuries.
Underride accidents. A smaller vehicle can slide beneath a trailer. Passengers suffer horrifying facial injuries or decapitation.
Jackknife. A tractor-trailer will jackknife when the trailer swings out wide and strikes cars in the next lane. Our clients have suffered fractures, concussions, whiplash, and other injuries of that sort.
Flying debris. Debris can come flying out of a dump truck or even a tractor trailer. Motorists try to avoid the debris and go off the road or ping pong off other cars. Our clients suffer soft-tissue injuries, compressed nerves, and concussions, among other painful injuries.
When Are Truck Drivers At Fault?
Many accidents are caused by negligent truckers. This is a difficult profession, and some truck drivers make mistakes behind the wheel of their rig:
Texting while driving
Driving too fast for conditions
Failing to observe surroundings
Illegal lane changes
Driving while fatigued
Intoxication and drug use
Tailgating
Distracted driving
Don't count on truckers to admit when they are at fault for the collision. They might even claim you cut them off or were traveling too closely.
Other Parties to Blame for Truck Accidents
If the trucker isn't at fault, then one of the following likely caused the crash:
Trucking company. The trucking company might put trucks on the road which are defective and in need of repairs. Trucking companies can also negligently hire or supervise their employees, which makes them liable for foreseeable accidents.
Loading companies. The trucking company rarely loads the freight into the trailer. Instead, a different company is responsible for loading and securing it. They might do a terrible job, resulting in an unstable truck.
Truck manufacturers. A defect on the truck could make it dangerous to drive. Manufacturers are often liable for defects in design or manufacture.
Mechanics. Any mechanic who worked on the truck could share liability for an accident caused by a preventable defect.
An injured motorist might also share fault. Arizona recognizes comparative negligence. If you were speeding or texting and driving, you could also share some of the blame for your collision with a big rig. Our state's law calls for a reduction in your compensation based on your share of fault. If you are 33% to blame, you'll get a third less in compensation.
What Should You Do after an Accident?
Any crash involving a large truck is terrifying. Many victims are lucky to make it out alive. All they can do is ride to the hospital in the back of an ambulance. Nonetheless, we recommend that you complete as many of the following steps as possible to protect your right to sue:
Call the police to report the accident. Arizona law requires that you report motor vehicle accidents to the state. A responding officer can also help gather information. For example, they might speak to witnesses and offer their impressions of fault.
Get medical care for anyone who is hurt. You can call 9-1-1 to request an ambulance. Many people suffer devastating injuries in a tractor-trailer collision, so the sooner they receive care the better.
Swap personal information with the trucker. If you can, ask for the driver's license, registration, and insurance information. Share the same with the trucker. This information helps when making a claim.
Document the scene. Your attorney will negotiate a settlement for the accident months after it happened. You can help your case by documenting the accident as much as possible. Take pictures of all vehicles and any debris. Also speak with witnesses, if you can, and ask for their name and contact information. They can help everyone understand what happened and who is at fault.
Avoid giving a statement to an insurer. A trucking company or its insurer might quickly reach out to you to talk about the crash. Instead, decline to give any statement until you have hired an experienced lawyer.
Reach out to our Nogales truck accident lawyer. We can help anyone hurt seek compensation in a settlement. Our lawyers have experience pursuing compensation for medical bills, prescriptions, lost income, and pain and suffering. You should also seek to get your car fixed or replaced.
Continue with your medical care. You can only get well if you take advantage of all medical care, including rehab.
Truck Accident Deadlines: Statute of Limitations
Arizona's statute of limitations gives truck accident victims two years to file a lawsuit. That's it. What if you go over this deadline? Then a judge will most likely toss your case—and you lose any ability to receive money. That is why it is critical to seek out legal representation. Some victims will get more than two years, depending on the facts, but it's best not to count on any extension.
Call a Nogales Truck Accident Attorney
Truck accidents upend our clients' lives like few accidents can. After a crash, you might spend months shuttling between doctor's offices and rehabilitation. You need an experienced lawyer on your team who is looking out for your legal rights.
Call Karnas Law Firm today. One of our lawyers will go over the accident and discuss your odds of successfully seeking compensation.
CONTACT KARNAS LAW, PLLC
Get In Touch With Our Team - (520) 571-9700