What Is the Leading Cause of Teenage Car Accidents?
On average, car accident injuries kill approximately 6 teenagers every day in the United States. According to the Centers for Disease Control and Prevention, this makes auto accidents the leading cause of teenage fatalities. The repercussions of these accidents can include severe injury, extensive property damage, death, or legal lawsuits.
As teenagers are not considered legal adults, the consequences of them causing an accident are often shared by parents. Here is an overview of the leading causes of teenage car accidents and possible prevention measures.
If you or your teenage child has been involved in an auto accident in Arizona, contact Karnas Law Firm to speak to an expert Tucson Personal Injury Attorney.
Driver Inexperience
The more you drive a car, the more experience you acquire in dealing with different roads, weather conditions, and traffic situations. Teenagers have been driving for a shorter time and tend to have minimal driving experience. This makes them less comfortable behind the wheel compared to experienced drivers. They could take longer to react to split-second dangers such as:
An animal jumping onto the road

A vehicle veering into the lane

Sudden changes in road conditions

Bad weather

Distraction from other drivers

The sudden stop of traffic
Driving Under the Influence
Intoxicated driving poses a significant danger to drivers of all age groups. However, when coupled with driver inexperience, it poses a special risk to teenagers. This is a problem because teenagers are less likely to decline a ride from an intoxicated driver or shy away from driving while intoxicated themselves.
The impacts of being drunk or under the influence of a drug while behind the wheel are devastating. Such drivers experience reduced response time, vision, and muscle control. Ultimately, this makes them more likely to collide with another object or vehicle.
Distracted Driving
Distracted driving refers to any conditions or actions that draw the attention of the driver from the road. Distractions can be manual, visual, or mental. Generally, they can take the driver's hands off the wheel, eyes off the road, or mind off the task of driving. The most prevalent and dangerous form of distraction is texting while driving.
While this menace affects drivers of all ages, teenagers are more likely to text or email their friends while driving. According to the AAA Foundation for Traffic Safety, distracted driving accounts for 12 percent of all teenage car accidents.
Driving with Teen Passengers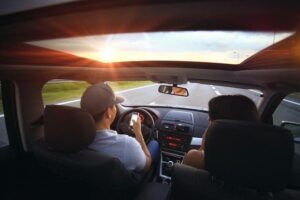 Recent studies by the AAA Foundation for Traffic Safety found that 15 percent of all teenage car accidents were related to the driver having one or more teenage passengers. The risk of a crash doubled when the driver had one teen passenger and tripled when the number rose to two or more.
Aggressive Driving
Aggressive driving includes behaviors such as failing to yield, acting, tailgating, and improper lane changes. Generally, teenagers are more likely to engage in these risky behaviors than older drivers.
Talk to a Tucson Personal Injury Attorney Today
Essentially, the leading causes of teenage car accidents can be prevented. Teenage drivers can reduce their risk of getting into a crash by practicing road safety and following traffic laws. Parents can also help by teaching their teenagers how to be responsible drivers.
The aftermath of an accident can be devastating to all parties involved. Where there are injuries, the victims could require extensive treatment, medication, and rehabilitation. Some survivors could even suffer a disability or disfigurement.
If you have been involved in a teenage accident, you should immediately seek the help of a Tucson Personal Injury Attorney. We will inform you of your rights and advise on the way forward.
CALL NOW: 520.462.3886